THE EVOLUTION OF
MARCEL FRANCK
Since Antiquity, perfumers have been looking for ways to diffuse the essences of the perfumes they created, and to reproduce all their component parts. The first atomisers only emerged circa 1860, although the writer and gastronome Brillat Savarin spoke of them as far back as 1826. They were used to spray spa water drops or medications, particularly to treat respiratory ailments.
Barbers and men's hairdressers began to use atomisers in the 1870s to administer cologne to freshly shaved faces.
It was not until the 1880s that the product was offered to women.
In 1877, two chemists discovered a way to produce synthetic aromas.
Until then, perfumes were limited by having to use only natural components. With this discovery the olfactory world was emancipated.
While remaining very elitist, the consumption of perfume, due to lower production costs resulting from the discovery of synthetic aromas, opened up to a much broader customer base.
In 1878, at the World's Fair in Paris, "great perfumers" such as Guerlain, Molinard, Lubin and others used a gadget called a pulvérisateur or vaporisateur (meaning "spray" or "atomiser") to diffuse their creations in the air around their stand.
The invention still had room for improvement.
The pumps malfunctioned, the bottles leaked, and the bulbs dried out.
Léopold Franck
It was in this context that in 1882, Léopold Franck set up a small workshop for making perfume atomisers at his own flat at 27, rue du Château d'Eau in Paris.
He foresaw the importance of the invention of the atomiser.
Convinced that the market would grow quickly, he thought that the answer lay in an industrial approach. Thanks to his remarkable technical skills and entrepreneurial spirit, he supplied atomisers to hairdressers and perfume shops in Paris, such as Le Rayon d'Or and La Parfumerie des Artistes. Parisian department stores such as Le Bon Marché, Le Printemps, Le Louvre, La Samaritaine, Les Trois Quartiers and Les Galeries Lafayette soon joined his list of customers.
His creations also appeared in personal grooming catalogues. In 1898, the increasingly successful company, which was named Vaporisateurs Franck, relocated to larger premises on Rue de Lancry. Soon after, Léopold Franck fell ill and died in 1907.
Marcel Franck gave new impetus to the company by expanding its customer base to the French provinces. He built relationships with major Art Nouveau glassmakers located in Austria, Germany, Bohemia and France, while he focused on atomising systems.
In the first decades of the company's history, Marcel Franck tried to adapt to the many demands of the perfume market, which was constantly evolving.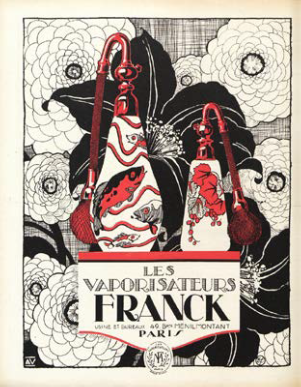 The name of Marcel Franck became synonymous with a cutting-edge atomising system, resulting in the filing of a large number of patents (over 40 by 1967).
By that point, talented fashion designers were no longer content to just dress women, so they began working with perfumers and creating famous perfumes.
Paris became the capital of perfume. At this time of great prosperity, beautiful grooming sets made of finely cut crystal, including at least one atomiser, adorned ladies' dressing tables. Marcel Franck endowed these masterpieces with his atomising systems, which were both ingenious and technically perfect.
Marcel Franck then supplied atomisers to perfumers such as Guerlain, Molinard, Worth and D'Orsay, and mounts to Baccarat, Saint Louis, Gallé, Moser, Lalique and others. However, his main concern was the development of his own brand and the perfection of his products.
In 1912, Marcel Franck developed the first ever travel atomiser. With this innovation, the small boxes of fragrant pastilles carried by ladies became ancient history. The travel atomiser used a piston mechanism, more reliable than the bulb. A latch system held the piston down when not in use.


The trends forecast by Claude Franck came true: competition from other atomisers, the increasing banality of perfumers' ranges, and the decline of independent perfumeries.


Meet Bernard Dennery, CEO Marcel Franck
What made you want to revive the brand?
When I was young, I was interested in the company, but it was sold after my grandfather died, so I didn't have the opportunity, then the brand disappeared at the end of the 90s.
After working in the UK, I went back to France not knowing what to do, so I researched the brand and saw there was an active collector's market for Marcel Franck flacons.
After a discussion with people like Roja Dove, I was encouraged to revive it, as there was nothing like what we do. It was also an opportunity for me to go back to my family's roots.
Do you think the art of design and crafted perfume flacons has been lost?
Yes, crystal flacons are a tiny business.
You still have some countries that produce them like Czechoslovakia and the big brands like Baccarat and Lalique, but they are not very interested in the fragrance flacon business anymore.
There are a few artisans who will make them, but it's very different now. The most difficult part of my business is to find someone skilled in flacons and the craft is difficult. It's a tough art, especially in summer when you have to start very early in the morning because the furnace spreads a lot of heat.
Most apprentices quit after some time because they don't like the harsh conditions. So, it's a difficult business, also because the furnace has to run all year round. There's a large consumption of gas, so it's costly too.
Nowadays, you have what we call automatic bottles. You can buy them off the shelf and make a specific decoration, so Craftsmanship business is a very tiny segment of the market.
Most people have no clue about how it's done, the difficulty, the work involved so, it's complicated.


What's your brand philosophy?
To bring innovation to art.
We have the know-how and we've adapted it to the specificities of the world in which we are living.
For example, with our travel atomiser we use techniques like guilloche, which is an ancient craft. We also use acrylic resin, which is a very new material. So, it's a combination of art and technology whilst relying on our craftsmanship.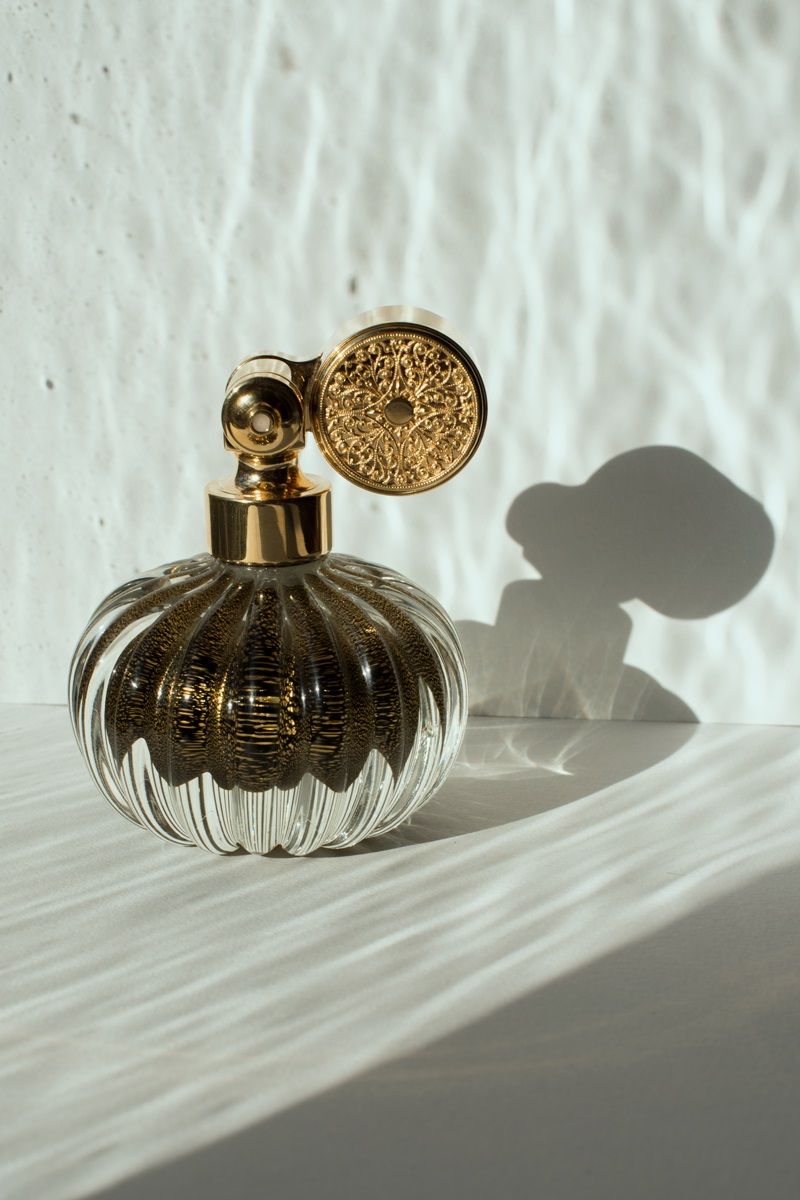 "Regulation is a huge constraint on creativity."

What do you see for the future of flacons?
With the increase of energy costs running ovens constantly, crafting glass is going to be much more costly.
Maybe there will be some techniques with 3D printing that we could do.
A client of mine is now moving more towards porcelain because it's much cheaper to produce, so I don't know what the future holds for handcrafted glass flacons.
What makes your flacons so exclusively unique?
Because we are the only ones that make them! And the sourcing of handcrafted glass flacons is extremely difficult.
Who is your customer, who buys your bottles?
Perfume lovers and people who appreciate the finer things in life and craftsmanship. There's a movement towards indie perfumers and people steering away from consumerism and big brands so, perhaps there is hope for them.
The rise of the Indie perfumer has seen many niche brands striving to be all about the perfume rather than the packaging.
Which is good for us because our atomisers are in line with the idea of being refillable.
So, you don't throw out the bottle; you refill them with your favourite fragrance.
We see more interest in the atomiser than before because of this concept of refilling.


The flacons that you have are made to last a lifetime. Even the rod inside is made of glass, not plastic, so you can keep refilling it. But when the bottle of your favourite perfume is crimped how can you get the lid off?
Yes, but crimping of bottles is going to disappear progressively. Chanel, Dior, Santa Maria Novella are all moving away from crimping. It's slowly going to move to non-crimpable bottles.


Do you agree with your uncle that perfume ranges have become banal?
When you smell all these perfumes, they're all the same, you know. So, there is very little creativity and innovation in the perfume business. To be honest, they all copy themselves.
The tendency is to create a lot and hope that within the lot one will emerge. But you don't see it happen often.
Even in niche perfumes, where there is supposed to be more innovation, you don't see Flabbergasting fragrances.
It's complicated because it's also linked to more regulations. Now you have so many restrictions on the materials you can use. If you smell the old versions of perfumes and compare them with the new ones, they don't smell the same because they cannot use the same materials as before, so regulation is a huge constraint on creativity.
"I don't know what the future holds for handcrafted glass flacons."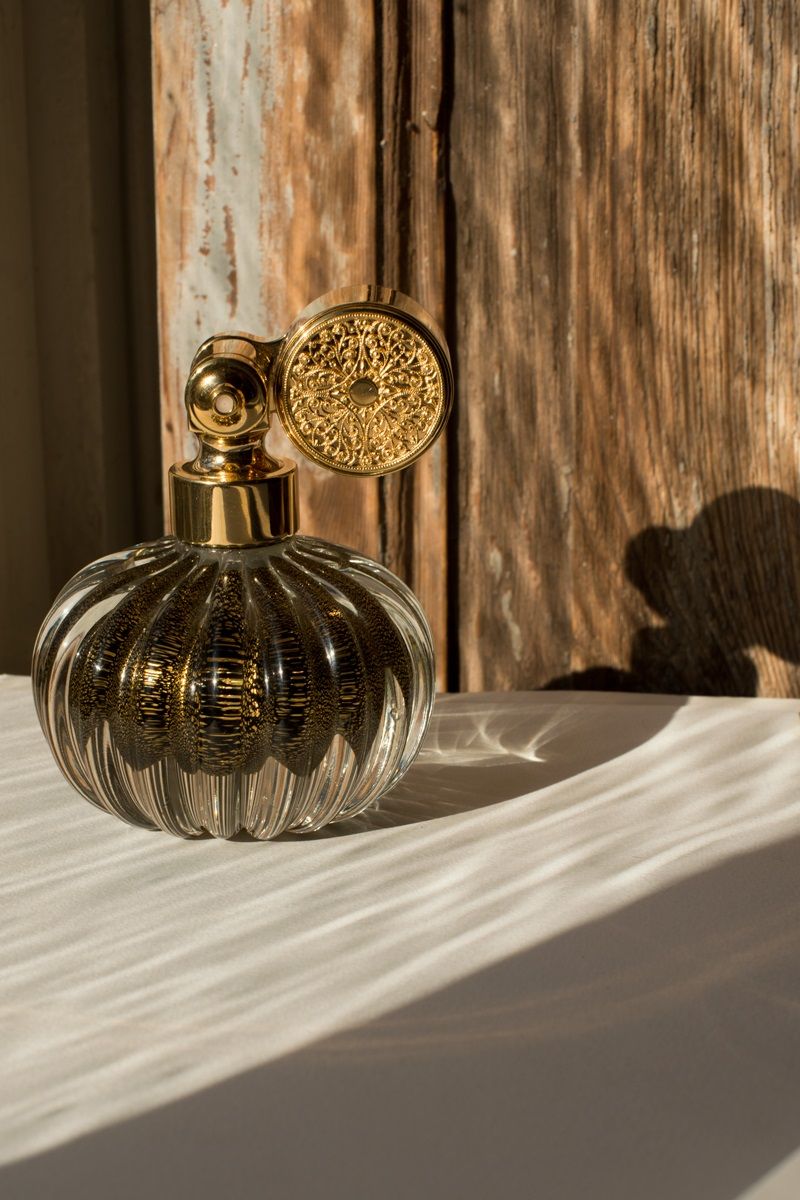 What is your bestseller?
The small onion shaped bottles (pictured above) in Murano glass with inserted gold leaf was up to now our bestseller but now I'm selling more crystal.


"There is very little creativity and innovation in the perfume business. To be honest, they all copy themselves."
BELOW: Bernard's Favourite Fragrance Flacon by Lalique.
"Even in niche perfumes, where there is supposed to be more innovation, you don't see Flabbergasting fragrances."

What do you think is so special about Lalique perfume bottles?
For me, they're the nicest perfume bottles. There is a huge business, which is the perfume bottle collectors who will collect Lalique, and they have created the most beautiful bottles in the past. In the 30s and 40s forties they made art déco bottles which are beautiful.
They are rather expensive to collect, and the collectors can spot them immediately.


Do you have a collection of Marcel Franck bottles?
The company had a collection but in 1972 the factory was destroyed by fire, so unfortunately the collection disappeared.
Now, sometimes I buy one when I see one that I like, but I don't do it systematically.


Is there a serious collector market of vintage Marcel Franck bottles?
Yes. There is one guy who has over 1000! And others who have a couple of hundred, so there are numbers of collectors, but they're not as widely collected as other perfume bottles. It's a narrower market.
The prices are not expensive, maybe between €50 to €100, unless they're Lalique, they can go for up to €10,000. They are very rare and hard to find, but once or twice a year there are auction sales for perfume bottles, so you could find them there.


"Oudh was in few perfumes, now they put Oudh everywhere. So, the innovation is not that big in this business. You see no more blockbusters to be honest."


IMAGES COURTESY OF MARCEL FRANCK, PARIS.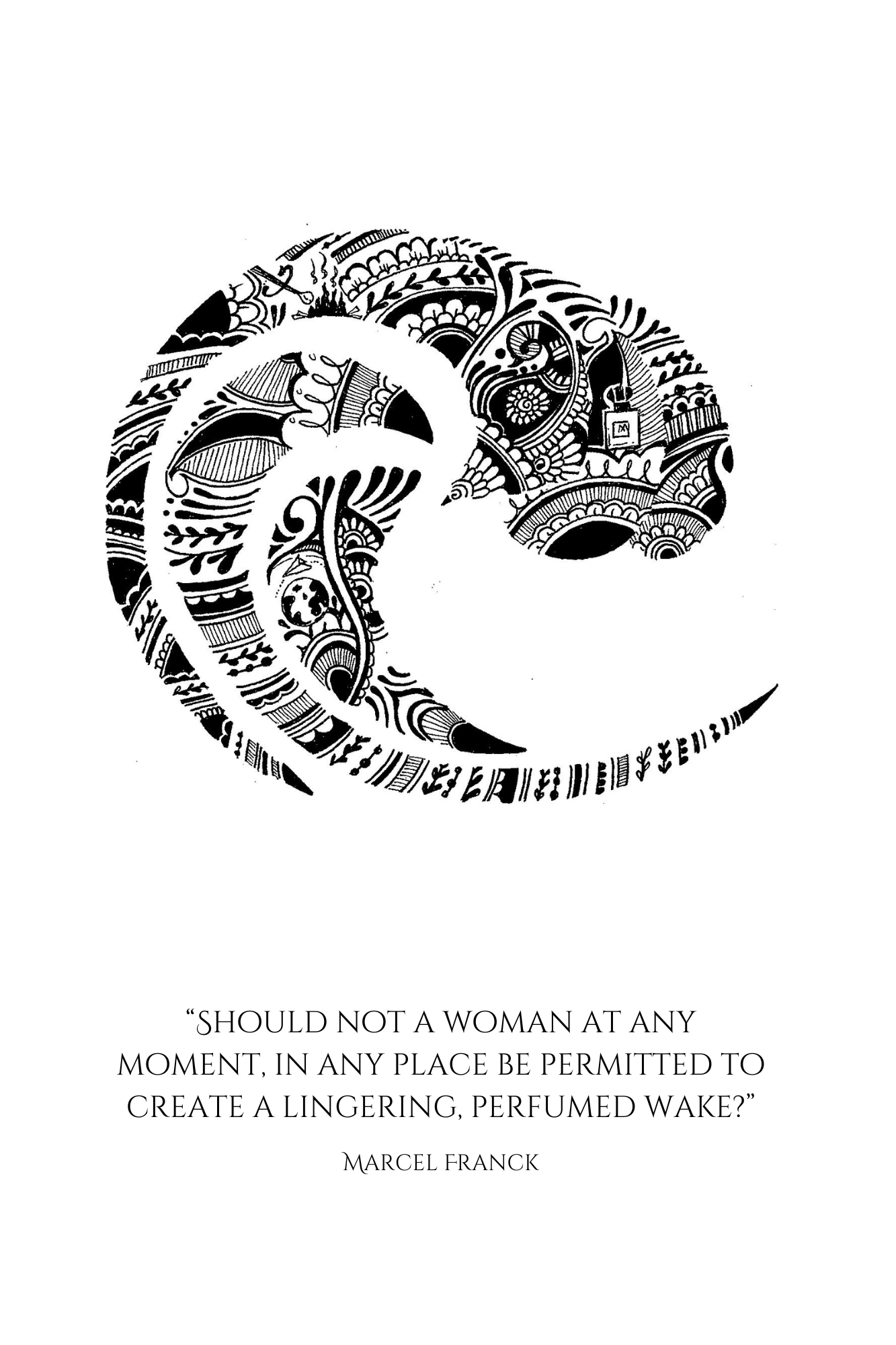 THE SCENT ACADEMY
FOR ALL LEVELS OF FRAGRANCE ENTHUSASTS
SAY GOODBYE TO SCENT SNOBBERY AND JOIN OUR ACADEMY TODAY!
Created with